A while back, we talked about using infrared thermal imaging technology in roofing and since, many people have contacted me asking  about the use of this great innovative technology in other areas of construction. Guys, just to make one thing clear: this imaging can be used in any situation during which you need information on thermal activity, or something that is behind a wall etc. So the simple/short answer for the deconstruction question, would be: absolutely!
You can pretty much find applications for anything you want in your daily life. So that is not the correct question. The right question you need to ask is: what are some specific applications of it that are going to help versus something else we do in its place?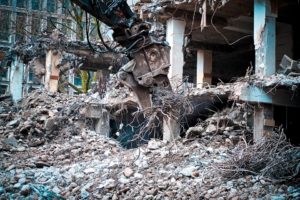 Well, when it comes to demolition the range of uses can be from identifying places of a building that have increased temperature (that may be due to gas leaks and material disturbance) all the way up to discovering a trapped worker under debris. In the first case, a demolition contractor would have to go in with machinery and remove all those structures in a very surgical way, before he moves on to deconstruction or implosion. In the second case…well that would be a great tragedy, so I won't talk too much about that.